Known for the hit "
Unholy
" in a duet with Sam Smith,
Kim Petras
presents a new song "brrr". The transgender singer from Germany is getting ready to further conquer the United States - she appeared on the programe "Late Night with Seth Meyers", where she gave an interview on the evening talk show for the first time and performed the song "
brrr
".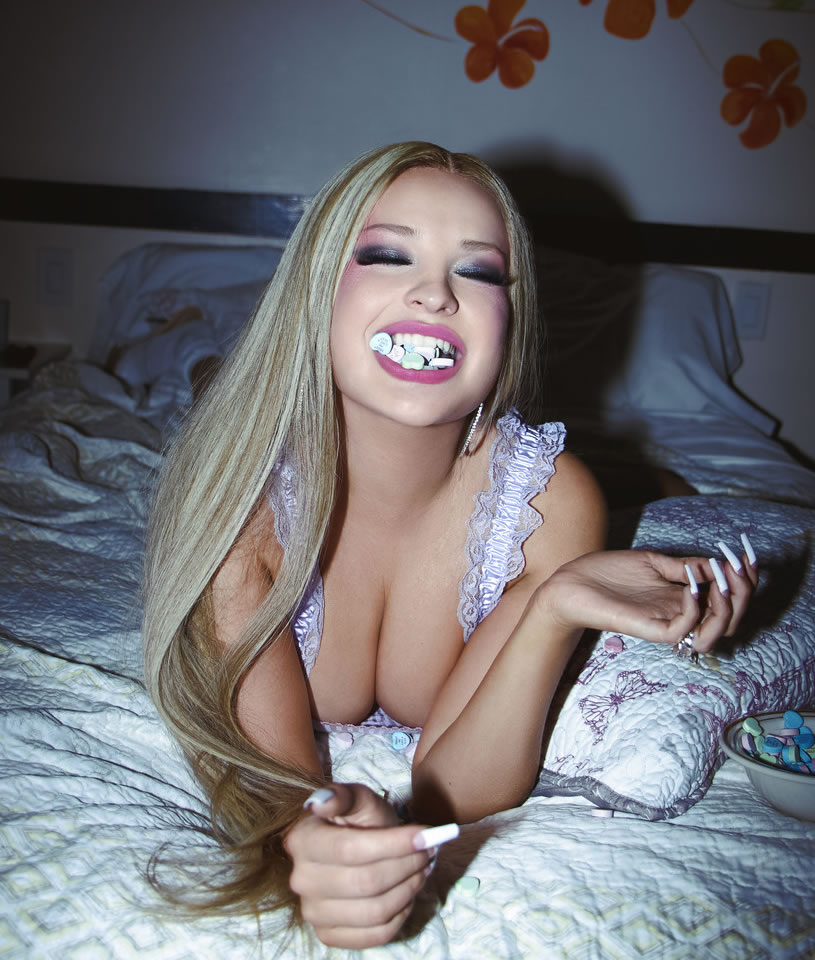 Brrr
The song "brrrr" is about being aware of your desires and finding a person who is not intimidated by her brilliance. The song was produced by ILYA - he previously worked with Kim Petras on the hit "Unholy" and the soundtrack to "Charlie's Angels".
"brrr" follows the November 2022 release of "
If Jesus Was A Rockstar
" and the huge hit "Unholy" recorded with
Sam Smith
. Kim co-wrote the hit. The song quickly became the most popular pop duo of 2022 - topping the
Billboard Hot 100
, Billboard Global 200 Chart and number one on Spotify and Apple Music charts in many countries.
Who is Kim Petras?
Born in Germany, Kim Petras boasts an incredibly dynamic career, sold-out tours in North America and Europe, and favorable reviews from major journalists and media around the world. She was born as a boy named Tim - at the age of 13 she appeared on German television, where she publicly announced for the first time that she wanted to change her gender. It finally happened when she was 16, and the media hailed her as "
the youngest transgender in the world
".
At the age of 20, she spent all the money she earned as a waitress to fly to Los Angeles to start working on her music career. Shortly after moving in, she met producer Aaron Joseph, and their collaboration resulted in the single "I Don't Want It At All" and Kim's first Top 40 hit, "Heart to Break". Petras conquered the Billboard charts and other charts with hits such as "Feeling of Falling" and "1, 2, 3 Dayz Up". In 2019, her debut project Clarity was released, which received an extremely warm reception from the media. Kim presented the lead single from the release, "Icy", on "Good Morning America". Ariana Grande personally chose the singer for the Charlie's Angels soundtrack.
Petras also released the project "Turn Off The Light", among others. with the songs "There Will Be Blood" and "Close Your Eyes". In 2020, the artist sang "Malibu" on "Jimmy Kimmel Live" and collaborated with
Kygo
,
Madison Beer
and K/DA. He has over a billion streams to his credit.
In the summer of 2022, Petras released a cover of Kate Bush's big hit "Running Up That Hill" as part of the Amazon Originals series. Amazon has also produced a short documentary behind the scenes of Petras' performance at the famous Coachella festival , as well as a joint performance with
Christina Aguilera
- together they performed the song "
XXX
" from the mini-album "Slut Pop" by Kim Petras.